SAXS/WAXS/GISAXS equipment installed at CRMD
September 3, 2013
Dr Pascal Andreazza
CRMD, Orléans, France
Xenocs has just installed a Xeuss SAXS/WAXS/GISAXS equipment at CRMD (Centre de Recherche sur la Matière Divisée) in Orléans in France.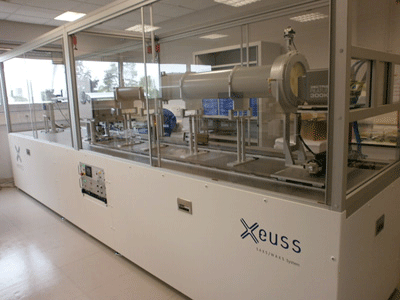 "The Xeuss will help us characterize a large range of heterogeneous samples at a scale from 0.5 to 100 nm (nanostructured films, supported nanoalloys, nanocomposites, porous materials, etc). Having such a powerful equipment in our lab is a major step in the development of our research facilities. On the grounds of its high performance, the versatility of the system and its low maintenance, Xeuss was a clear choice for us", said Pascal Andreazza, Senior Scientist at CRMD.
About CRMD
The CRMD is a research center from the CNRS and the University of Orléans. Its activity focuses on material science, especially on divided matter (confinement and dimensionality effects, self-organization, control of surface/interface in heterogeneous materials). The CRMD develops new methods of analysis ex and in-situ for characterizing & studying the properties of heterogeneous systems at different scales, from the interatomic scale to the nano/mesoscale.
For more information, please refer to the following article on CRMD's website.
Latest testimonials